Better Off Read Mystery Book Group
Published on Friday, November 22, 2019 — 11:28 am
Event Information
Directions

Date

Tuesday, January 14, 2020

Time

11:00 am
Saratoga Springs Public Library
49
Henry Street
City of Saratoga Springs
New York
United States
Please register through our online calendar or by calling 518-584-7860, ext. 247.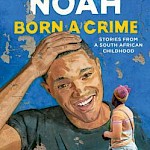 This monthly book group meets to discuss mysteries, thrillers and suspense titles.
For our January 14th meeting, we'll discuss this year's SaratogaREADS! Selection, Born A Crime by Trevor Noah. Books can be found on the shelves, reserved or requested from other libraries. See a Saratoga Springs Public Library librarian for information.